In 2007, the Argos company expanded its experience and knowledge in wholesale by opening a distribution center in Belgrade specialized in servicing customers from HoReCa channel.
Storage area of the distribution center in Belgrade is 1000 square meters. Within the distribution center there is also a commercial, accounting and a procurement department.
As the center developed into a fully independent and stable business unit, it eventually separated from in parent company in September 2014 and started operating under the name of Argos Beta.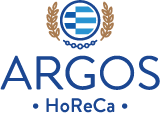 HoReCa sales channel for hotels and restaurants within our company, with its distinct characteristics, is specially organized and staffed with managers who have years of experience and excellent knowledge of all the needs of HoReCa customers so that all their demands are fully met.
The well-managed sales team increases the number of customers on a daily basis, whose suggestions and reviews represent the foundation of our business. We are trying not to overgrow the number of customers whose needs we can meet. Our mission involves a steady growth with respect and response to the requirements of all our stakeholders.
Today we have around 200 customers in HoReCa and TT channels. Our offer consists of over 2000 items including alcoholic and non-alcoholic beverages, paper and glass products, and household cleaning and care products. We are always expanding our assortment and adjusting it according to the demands of our customers.
Argos Beta is constantly developing and strengthening with a sole purpose of meeting the demands of its customers in HoReCa channel, while simultaneously working on becoming a one-stop-shop for all our customers. . Our mission is to become a distribution company with an emphasis on long-lasting commitment to our customers.
The main thing that sets us apart from our competition is the quality of our service and the speed of delivery.
Here are just a few of the partners that have put their trust in us: Cafe-Restaurant Mydan, Restaurant Monument, Restaurant Rubin, Restaurant Marinada, CafeDolcino, GogaYachting Club, JB Restaurant, IJATAKO Cafe-Restaurant, XplicitCafe, Restaurants Pink and Kuhinja and many others.
Check for yourself why more and more customers put their trust in us!